Nagorno-Karabakh Region- (Reason for Dispute)
Both Armenia and Azerbaijan have been fighting over the disputed Nagorno-Karabakh region for quiet a time now. Lets talk about the Nagorno-Karabakh region. This region is situated in South-Caucasus, now known as the republic of Artsakh, is claimed by both Armenia and Azerbaijan for many decades.
Even though this region is internationally recognized as a territory of Azerbaijan, it had not had exercised any political authority over Nagorno-Karabakh since 1988 and this region has a majority ethinic Armenian population. Last big conflict over this region was the Nagorno Karabakh War in 1984. These clashes have resumed despite internationally brokered ceasefire.
Recent clashes began on 27th September, 2020 between the Armed Forces of Armenia and the Armed Forces of Azerbaijan. World superpowers have requested both the countries to de-escalate the situations in the disputed region.
Armenia vs Azerbaijan- Military Power Comparison-
Both these countries are close to a war. So, lets analyze the military strength of both countries:
Armenia:
Global Rank- 111
Defence Budget- $634 Millions
Manpower- 58,580 Active Military Personnel and 210,000 Reserve Personnel.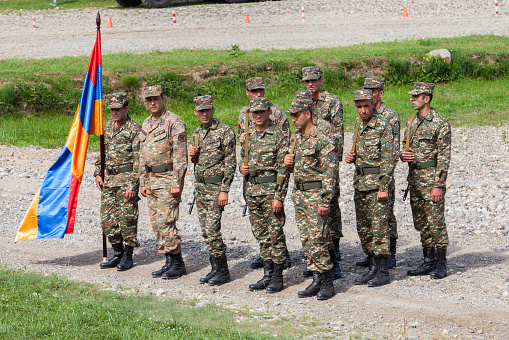 Tank- 110 (Old Soviet Era models)
Armored Fighting Vehicles- 748
Self Propelled Artillery- 38
Towed Artillery- 150
Rocket Projectors- 68
Total Aircraft- 64
Fighter Aircraft- 0
Attack Aircraft- 9
Transport Aircraft- 3
Trainer Aircraft- 13
Helicopters- 37
Attack Helicopters- 20
As of naval power, Armenia has no navy because its a landlocked country.
Azerbaijan:
Global Rank- 64
Defence Budget- $ 2.26 Billions
Manpower- 67,000 Active Duty Personnel and 300,000 reserve personnel.
Tank- 570 (Most of which are old Soviet Era Models. Some are mediocre tanks like Russian T-72s advanced tanks).
Armored Fighting Vehicles- 1,451
Self-Propelled Artillery- 187
Towed Artillery- 227
Rocket Projectors- 162
Total Aircraft- 147
Fighter Aircraft- 17
Attack Aircraft- 12
Transport Aircraft- 1
Trainer Aircraft- 29
Helicopters- 88
Attack Helicopters- 17
Total Ships- 31
Aircraft Carriers- 0
Frigates- 1
Destroyers- 0
Corvettes- 0
Submarines- 4
Patrol Craft- 13
Mine-Warfare Craft- 7.
Karabakh Region-
As of Karabakh region, Republic of Artsakh was formed as an independent nation. Though, its existence is not recognized internationally, except ofr some few neighboring countries. The Republic of Artsakh is claimed and internationally recognized as Azerbaijani territory. But this place is ruled by ethnic Armenians as Azerbaijani territory and Armenia is quiet close to NKR (Republic of Artsakh).
Military Capability-
Azerbaijan has a slight advantage in military strength, but this war can be really bloody if both these countries do not maintain peace in the Nagorno-Karabakh Region.
Both the countries have relations with world superpowers and both of them have almost equal manpower. But a war will only make the matters worse for these two struggling economies because of Covid 19.